Surface Preparation
Safety Grooving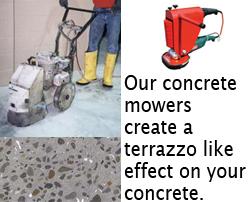 Safety Grooving employs a 'gang' of circular blades mounted on a walk behind machine set to cut a uniform depth. Safety Grooving is typically specified for high risk areas with a history of slipping & skidding, but is not limited to these areas.
Our Grooving units are Petrol. With a nominal width of 6mm x 6mm deep & centre of 50mm the grooving units specification can be varied on application.
Some examples of applications include:
Loading bays
Wash bays
Areas with high risk of slipping
Abattoirs/Slaughter areas
Service Station Hardstand
Cold storage flooring
Steep driveways
Pool areas
Improved skid resistance
Leveling of doorway entrances or driveway approaches
Grinding / Mowing
Concrete Mowing employs a diamond segmented circular plate bolted to the vertical shaft of a walk behind machine or hand held machine.
The plate works in a grinding motion removing the top layer of most surfaces when applied. It is typically used to level uneven surfaces or even enhance skid resistance.
Our Grinding/Mowing units come in a range of:
240 Volt Hand held electric cup grinders
3 phase Electric walk behind ( 20amp 4 pin Clipsal )
Unleaded Petrol
Typical applications include:
Removing grout or adhesive glue from flooring
Loading bays
Wash bays
Areas with high risk of slipping
Tilt panel correction
Improved skid resistance
Leveling of doorway entrances or driveway approaches
Ideal for Heavy Paint line removal
Removal of high trip hazards
Preparation for concrete mowing
Ideal for Light Paint line removal
Many applications here